Poor Performance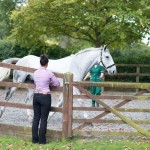 Horses are athletes and those that are performing can be affected by small changes in their health. Changes in performance are often subtle and therefore the cause can be difficult to determine.
You may have noticed during riding or competing a slower recovery than usual, reluctance to perform previously established dressage movements, poor jumping technique or refusals. At rest the horse may be irritable, have a poor appetite, show breathing problems or a cough, or may just look "under the weather". All signs should be taken seriously and investigated as necessary to prevent any worsening of the condition and affecting the horse mentally.
The most common causes of poor performance can be attributed to the following body systems:
Musculoskeletal (neck, back, pelvis, and legs)
Cardiovascular (heart and vessels)
Respiratory (upper airway, trachea, lungs)
Nervous (brain, spinal cord, nerves)
Gastrointestinal (mouth, stomach, small and large intestines)
A systematic approach is always necessary, and often further diagnostic tests may be needed. Sometimes investigation may be time consuming and require specialised equipment so we are happy to carry out any investigation at our clinic.