Stud Medicine
We are able to offer a full range of stud services including fertility assessments, pregnancy diagnosis, artificial insemination (AI) and foal care.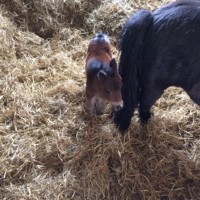 Stud work can be carried out at your premises dependent on the mare, facilities available and procedure, or we have stocks at our clinic.
We offer reproductive management of mares from pre-breeding all the way through to foaling including:
Pre-breeding fertility assessments
Pre- and post-covering management
Pregnancy diagnosis
Foaling assistance
We offer priced packages for both chilled and frozen semen AI. If you would like to discuss the options available to you please contact the practice.
Sick foals are an emergency and most cases can be treated at home. Unfortunately, very sick foals often need immediate referral to a specialist hospital so if you have any concerns about your foal then please contact us straight away.