Surgery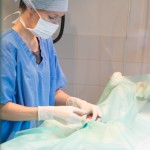 You can rest assured that we will do our utmost to ensure the comfort and safety of your pet when he/she undergoes surgery.
The operating theatre at Burlyns offers high-level facilities to perform surgery in optimum conditions.
Each patient has calculated doses of needed drugs such as; pain relief, pre-medications and induction agents for their procedure specific to their needs. Each patient is also provided with a cannula to ensure easy access to a vein if needed and to give medications.
Each surgery site is clipped and prepared by our vets and nurses. We may make the clip patch larger than you think- this is to ensure that no hair that can carry bacteria can creep into the surgical site. The surgery site is then prepared by getting rid off all the loose hairs and then an initial scrub is carried out. After the initial scrub, the final scrub is then carried out to ensure that the surgical site is sterile. The sites sterility is mantained throughout the procedure with sterile kits, drapes, gloves, blades and suture material.
During your animals anaesthetic they are provided with an endo-trachael tube to ensure that your animal is getting the oxygen and anaesthetic gases required. It also means we have direct access to the airways, making each anaesthetic safer.
Our nurses monitor your animal throughout their procedure and during your animals recovery. All of your animals vital signs are recorded including; heart rate, respiration, temperature, reflexes as well as their oxygen saturation and their blood pressure. All of our anaesthetic equipment is tested daily before each prodcedure to ensure all is in working order.
During your animals recovery, they are monitored closely. Once awake, they will be provided with a bland food and water and taken out for a short walk.
Thorough instructions are always provided at time of discharge from the surgery and we are always happy to hear from you should you have any concerns in the post-operative period. We like to carrry out post-operation checks at 2 days and 10 days post-operation to ensure that the surgical site is healing well.