Internal Medicine
Internal medicine encompasses everything inside and out of the horse, including the internal organs – heart, lungs, liver, intestines – and the body systems more easily examined – the skin and eyes.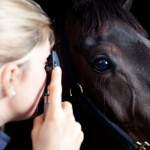 Many medical problems can be investigated by examination and simple tests, but if further investigation is required we may perform ultrasound scans, biopsies, endoscopy or other more involved tests.
We have an excellent relationship with several visiting internal medicine specialists who can offer us advice or perform specialised tests if necessary.