Lameness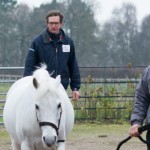 Lameness is one of the most common problems in equine practice. It can vary from an acute, severe lameness (see Emergencies) to a mild ongoing lameness.
The signs can be very vague including weak transitions, dragging the toe(s), becoming disunited in canter, lack of impulsion, reluctance to do movements that were previously established or preference of one rein, refusing to jump or poor performance in general.
Sometimes you may notice heat or swelling associated with a joint, tendon or ligament, but often with more subtle lamenesses there will be little outward sign to tell us what could be causing it. Back pain and hindlimb lameness can be particularly difficult to accurately detect or localise if the signs are subtle.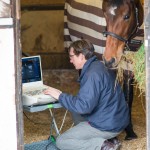 The vet may recommend a lameness investigation to find out what is causing the lameness. Lameness investigations start with a detailed clinical examination and gait analysis, and usually include joint or nerve blocks. This involves injecting local anaesthetic into a joint or tendon sheath, or around specific nerves to numb the area and therefore identify where the pain is originating from. We may then take X rays or ultrasound scan the area concerned to diagnose the problem causing the lameness and formulate an appropriate treatment plan. If surgical treatment is the best option, we can perform this in our custom built operating theatre (see facilities) and provide all necessary aftercare in our relaxed stable environment.
We would usually request that the horse be brought in to our clinic for this as we have all of the required facilities and necessary equipment, a clean examination room for joint and nerve blocks and trained staff to handle horses for the procedure.