Dentistry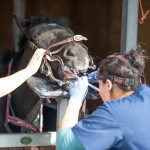 Regular, thorough dental work is important in maintaining your horse's health and performance.
Regular examinations every 6-12 months of your horse's mouth allows early diagnosis and treatment of dental abnormalities before they develop into more serious problems.
Signs of dental problems are very varied and some of the more common are:
Subtle changes in ridden performance
Difficulty in chewing and dropping of food (quidding)
Weight loss
Nasal discharge
Lymph node enlargement
Head shaking or tossing
Foul-smelling breath (this can indicate a tooth fracture with a concurrent infection)
Inflamed gums around wolf teeth
Occasionally there are no outward signs
This work should be carried out by one of our vets. Only a vet can examine your horse and look for other health issues at the same time which can be valuable in assessing poor performance. We can sedate your horse if necessary to enable the back of the mouth to be rasped more effectively, resulting in a higher level of comfort.

The image above illustrates how far back in the horse's head the molar teeth are and therefore why sedation can help us assess and correct any problems as well as possible.
We offer yard dentistry visits where we will assess and treat over four horses on the same yard at a discounted rate.
Benefits of Regular Teeth Checks:
Improved comfort levels in your horse's mouth
Improvement in horse's way of going
Soft, pain-free contact down the reins
Improved performance
Prevention of behavioural issues
Increased utilisation of food (leading to cheaper food bills!)
Please ring the practice to book an appointment on 01635 254544. Routine teeth rasping, including sedation if required, is included in our Coach House Care scheme. If several horses on one yard are booked for the same time, we offer a fixed price to include the dental examination, treatment, sedation and the visit.  For more information give us a call.