Facilities
Our surgery at Burlyns in East Woodhay offers a full range of purpose-built facilities for the diagnosis and treatment of our equine patients.
Examination Room
The equine examination room offers a fantastic space where our vets can perform procedures such as nerve blocks for lameness investigation, X rays, ultrasound scans and also some standing surgery.  The non-slip surface and adapted lighting enable procedures to be carried out with maximum comfort for horse, owner and vet.  We also have a Joint Measurement board accredited pad in the exam room, allowing JMB measurements to be carried out away from the elements!  See the Joint Measurement Board section for more details.
Equipment
We have modern equipment throughout our practice, enabling us to provide a complete service at your premises where possible. Such equipment includes; a mobile ECG, blood pressure machine, monitoring machine to keep track of heart rate and saturated oxygen. Other equipment include; digital x-rays and dentistry tools.
Operating Theatre
Our purpose-built equine operating theatre is well equipped for all routine elective procedures that are performed under general anaesthetic.  We have specialist surgeons who visit regularly to perform both orthopaedic and soft tissue surgeries, and our own vets are competent and experienced anaesthetists.
For sur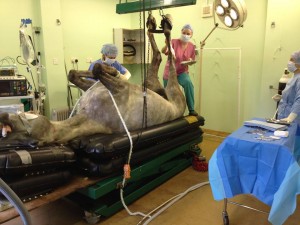 geries that can be performed standing (ie not under general anaesthetic but under sedation with the horse standing up) we can perform this in our stocks or examination room which offer the ideal facilities to do this. Such procedures include routine standing castration, wound repair, sinus surgery, tooth extractions and some orthopaedic operations.
Laboratory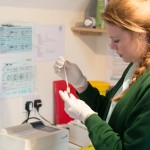 Our in-house laboratory offers a convenient and cost effective way for our vets to run routine tests for your horse. Our blood machines test haematology (cells in the blood, indicating infection, dehydration or anaemia) and biochemistry (chemicals in the blood to test for liver disease, kidney problems and more). Urine can also be tested, as well as skin samples checked for parasites or fungal disease. Faecal worm egg counts are performed by our nurses on the same day of submission of samples and provide invaluable information on the level of worm infestation of your horse.
The in-house laboratory means results can be delivered quickly and a treatment plan formulated as soon as possible, which is crucial in emergency cases and very useful in routine cases.
Hard Trot Up and Soft Lunge Arena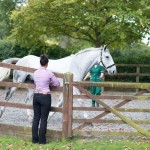 The trot up and lunge arena offer a quiet, safe environment where our vets can perform lameness investigations.  Often gait changes may be subtle so having these facilities allow repeated trot ups on a non-slip, level surface where changes in gait or level of lameness can be assessed in a consistent fashion, enabling easier interpretation.
Stabling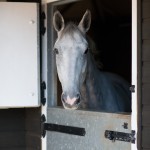 Our on-site stables are contained within a secure yard and include a mare and foal box.  Our patients generally settle in very well if they are kept in the clinic for treatment.  The nursing staff work hard to ensure that horses are exceptionally cared for and standards are kept high.
Lorry Park
The extensive lorry park allows plenty of room for parking and turning your horsebox or trailer.  A loading ramp is available for use if horses are difficult to load or if they have certain conditions meaning loading them onto a less sloping ramp is necessary.  Horseboxes can be left at the clinic overnight while your horse is an inpatient at your own risk.